Riffle Comics Spotlight! Estevão Ribeiro
We interviewed Brazilian comics creator Estevão Ribeiro!

1. Which book are you raving about right now?
I teach scriptwriting for comics in Rio de Janeiro and I'm doing a graphic novel adaptation/mash-up about the book From the Earth to the Moon by Jules Verne and the movie A Trip to the Moon (by George Méliès), so I'm reading various books about comics, such as the Scott McCloud books. But the book that I always keep by my side is Da Terra à Lua (From the Earth to the Moon, the Portuguese version).
2. Finish this sentence: When I was a kid, I wanted to grow up to be… 
A rock star! But my family was Christian and this was not possible. I swear that I tried later, but the shame didn't let me move ahead. So, I turned writer!
3. What's the weirdest book, quote, or historical fact you've come across recently?
We are having strange days in Brazil. The world knows us for our passion for soccer and now, near to the World Cup, we are protesting for our basic rights, like better quality of life, and against political corruption, things that we were not proud ourselves, but we, as citizens, we have nothing to deserve this. So these days the Brazilians are moving into the streets, in a moment that seems to me to be the most important event of the last 30 years.
4. What's your favorite method of procrastination?
Social networks, always! Facebook, Twitter, blogs… Tumbr hasn't gotten me yet, thank God!
5. If we were visiting your home town, what would be the one place that we would have to check out?
It's very unfair to see just one place or do one thing in Rio, but if you want to do something different, I suggest a visit to Petrópolis, a city near to Rio, where Brazil's emperor had a summer residence in the 19th century. Another very important person lived there, too: the inventor Santos Dumont, the Wright Brothers' rival in the invention of the airplane.
6. Which comics creator do you think is overlooked or underrated?
I think that I can only talk about my country, because all the comics that come to us from other countries are best sellers or have been highly noticed in other places; because of this, it's very rare to discover something different here.
In Brazil we have very good artists, from the past and in the present. Renato Canini was responsible for Disney's Zé Carioca stories in Brazil. His style was so different from the original Disney art, which the Brazilian publisher had problems approving. But the readers liked it, and he was Zé Carioca's face for a long time.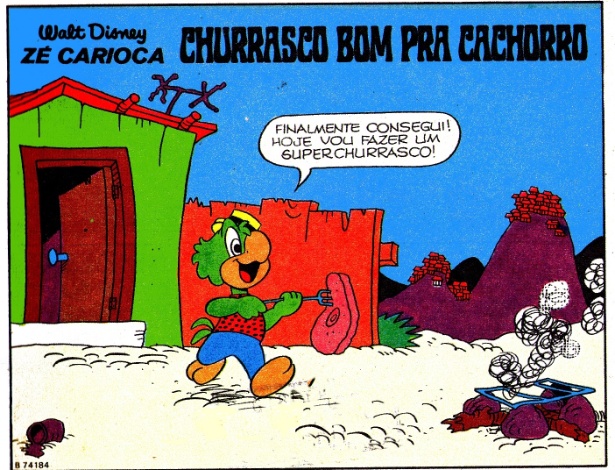 We also have Antonio Cedraz, the great comics creator of Turma do Xaxado (Xaxado's Gang). Xaxado is a boy that lives in the poorest and driest area of Brazil: the northeast, where there are few natural resources. In those stories, Antonio Cedraz talks about social injustice and folklore, without forgetting the humor. Curiously, "Xaxado," the character's name, is a typical dance from the northeast, too.
7. What's your favorite part about writing comics?
I like the idea, starting to build a world, studying the structure. This part I do far from my computer, thinking while I walk or I'm going somewhere. My wife is always my victim, because I talk about the story many times before I put it down on paper. After that, I work the idea into a form that can pass the whole passion that I had before to my reader.  When I write for an artist, it's a pleasure to see them enjoying the story, or when he shows me the page illustrated as I imagined. You think that you did a good job when you see this.
8. Can you tell us more about Little Heroes? How did the project come about?
I've spent the last three years saying that Little Heroes is a tribute to great heroes from my childhood, but today I think that is wrong. Little Heroes is an anthology with eight stories about children and teenagers in their heroic moments. Each story is inspired by a DC Comics hero, and at a certain point, the reader can catch the references and identify that hero. But the most important point is: not one copyright was broken, and if the reader doesn't know the references, he doesn't lose the meaning of the story because these stories are independent of the tribute. Little Heroes is a tribute to the comics readers that, like me, always dreamed of being a superhero.
9. If you could give your younger self one piece of advice, what would it be?
Read more, live more, love more, without fear of God. He is a nice guy.
10. Which of your comics would you recommend to someone discovering your work for the first time?
I have a few things in English, so I think that Little Heroes is a good beginning. I did work for the World Bank, a story about the environment called the Equipe Evoke. The webcomics can be found in Portuguese and English here. I do a comic strip in Brazil called Os Passarinhos (The Birdies) and there are some comics strips in English, which you can find here.
Thanks for your time, Estevão!
You can follow him on Twitter here.

Like what you read? Read more when you join Riffle! You can follow Estevão here!

Gina Rodriguez, Riffle Comics/Graphic Novels Editor
wondersaremany likes this
rifflecomics posted this